Viktor Alexander Matthey

Victim of Attachment Therapy
Union Township, Hunterdon County, New Jersey
Killed October 2000 at age 7





Note: This account has been gleaned from published news reports. See the webography that follows for sources.

The death of a 7-year-old Russian adoptee was ruled a homicide, and the boy's parents are the main suspects, prosecutors said. At a hearing, Superior Court Judge John Pursel denied the requests of Robert and Brenda Matthey to have contact with their six other children.

The Mattheys' oldest son, Robert, who was 16 at the time he was interviewed by police, said Viktor "was a handful" and was locked in the pump room in the basement when he would "throw severe fits," according to court documents.

Robert described the room as wet and muddy with no lights and no toilet. He told police Viktor would sometimes be locked in the room for about a half-hour, but occasionally he was left in there overnight.

"He (Robert) would hear Viktor screaming and banging on the door to get out," according to a legal brief filed by Assistant Prosecutor Dawn Solari. "He could also hear him through a monitor that was in the pump room with the receiver in the parents' room. He could hear Viktor calling out that he had to go to the bathroom and crying, sometimes through the night."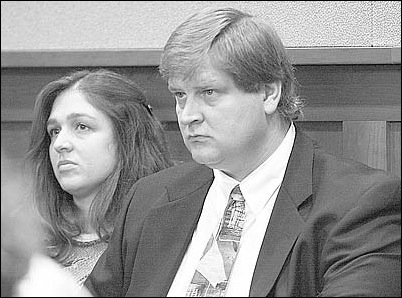 Brenda and Bob Matthey. The deeply religious couple went to a great deal
of trouble to adopt and retrieve Viktor, yet are claiming now that they were
unable to handle his alleged RAD behaviors.
[Photo: Newark Star-Ledger, by Joe Epstein]


Robert said when Viktor would scream loudly, his parents put duct tape over his mouth to get him to quiet down, and "the tactic worked." He said all of the children, including Viktor, were disciplined by being "spanked or whacked" with a belt or with their hands. He said Viktor had been spanked five to ten times in the month prior to his death.

Other punishments included time-outs and running in place. The children told the investigator that sometimes they were punished with a cat-o'-nine-tails, a whip made of nine knotted cords attached to a handle. It was kept in Brenda's desk, they said.

Richard described a mixture of beans and barley that was used to punish Viktor: He was forced to eat the mixture before a buzzer went off—if he failed to finish, he would not be allowed to have a drink.

First Assistant Prosecutor Stephen Lember said some of the Mattheys' other children may have been kept in the same unheated, unlighted room where it is alleged that young Viktor Matthey slept in the days before his death. But Robert and Brenda Matthey have denied Viktor was kept in an unheated room.

Lember said in light of the abuse charges and the medical examiner's ruling, the Mattheys should not be permitted to see their other children. He said the couple have not been charged with homicide because he is still gathering information. "It is not a suicide. It is not a natural death. It is a homicide," Lember said.

Viktor's body temperature was 83 degrees—more than 15 degrees below normal—when he was brought to Hunterdon County Medical Center by paramedics after his mother called 911 to report he had stopped breathing. He died two days later.

The Hunterdon County Medical Examiner's Office has determined the child died from cardiac arrhythmia due to hypothermia, and ruled the death a homicide.

Viktor's temperature was 83 degrees and he was in cardiac arrest when he arrived at Hunterdon Medical Center on the afternoon of 29 October. He was transferred to Robert Wood Johnson University Hospital, where his temperature was recorded as low as 80 degrees. Hospital workers noted Viktor was covered with 40 cuts, bruises and abrasions. An autopsy found recent fractures and older fractures that had healed.

And Viktor's autopsy determined his stomach contained "an excessive quantity of uncooked, dried beans without sufficient liquid," according to the Mattheys' indictment.

As the people of New Jersey attempted to understand what happened to Viktor, the AT community interjected its unique ideas into the case. AT theorist and leader Ronald Federici told the Newark Star-Ledger that all children over the age of 3 who come out of an institution should be considered "special-needs" children, with emotional and developmental issues that require extraordinary interventions. "No 6-year-old coming out of an institution is going to come out normal," Federici bluntly declared.

Viktor wasn't treated normally from the beginning with the Mattheys. AT parenting methods are in evidence. For example, even though he was six years old, he was fed from a baby bottle, supposedly so that he "wouldn't feel left out" when his younger siblings were fed that way. But baby-bottle feeding at a late age is a common "reparenting" technique recommended by AT parenting specialists to "re-do" developmental stages.

The Mattheys were indicted 28 March 2001, on charges of aggravated manslaughter, manslaughter, four counts of endangering the welfare of a child and one count of tampering with witnesses. Though more than two years have passed since the indictments, they are still awaiting trial.