Roberta Evers

Victim of Attachment Therapy
Bayfield, Colorado
Killed June 1998 at age 6
Note: This account has been gleaned from published news reports. See the webography that follows for sources.
Dennis "Bones" Evers, a former police chief in Arizona, and his wife, Sandy, love kids. They had seven of their own before they started taking in foster children. "We always thought when we were done having kids, we'd take in others who were less fortunate," Sandy tells a reporter from Denver's weekly, Westword.

In 1992, when their youngest son was five, one of the Everses' distant relatives was arrested for domestic violence and his two-year-old daughter removed from the home. The Everses offered to adopt her.

The girl, Leia, had been neglected and abused. After the Everses took her in, however, "she did beautifully," Sandy says. "A couple years after we got her, all of the children said, 'We want more babies.' We thought it would be good for Leia."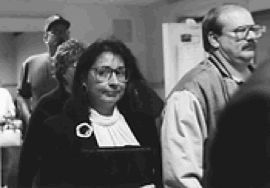 Sandy and Dennis Evers
enter court . The southwestern
Colorado couple were convicted
of strapping their adopted daughter
[Photo: Westword]

They did adopt more, including Roberta (Berta). Berta had been diagnosed as suffering from fetal alcohol syndrome, post-traumatic stress syndrome and RAD; she'd also been subjected to horrific sexual abuse, the Everses said they learned. "She'd been raped by her mother with a broom handle and by her father and his addicted friends over half her life," Dennis says.

The Everses petitioned to adopt Berta. Seven months, three therapists and a special court hearing later, they brought her home to Bayfield, a tiny town in the southwestern corner of the Colorado.

Even with all of their foster-care and adoption experience, the Everses say they sometimes found Berta to be a challenge. She was given to episodes of depression. She injured herself: banging her head, biting her lips, peeling the skin from her hands and fingertips. She could vomit at will, Sandy says, and she did so — at the dinner table — on more than one occasion. She also had trouble sleeping and wandered the house at night, symptoms the parents say stemmed from her attachment issues.

Berta's psychic injuries were so deep that she was impossible to "fix," Dennis says. "You don't fix these kids; you manage them, you live with them, you guide them and direct them."

In an attempt to manage Berta, the Everses say, they restrained her at night, tying her hands and feet to the bed with a leotard and a bathrobe sash and putting what Sandy calls a "net" (and what prosecutors called a "cage") around her bottom bunk as "protection."

In June 1998, one month before her seventh birthday, Berta died in that bed.

Although Sandy says she thinks Berta died of heart arrhythmia, the La Plata County District Attorney's Office believes Berta choked on her own vomit, unable to clear her windpipe because she'd been tied to her bed. And so prosecutors charged the Everses with child abuse resulting in death.

After a twelve-day trial, the Everses were convicted of a lesser charge: criminally negligent child abuse resulting in serious bodily injury. Before sentencing, the judge received numerous letters in support of the couple as well as a petition carrying 347 names, asking him not to sentence the Everses to jail time.

But jurors didn't want the Everses let off so lightly. "A child died because she didn't fit an artificial image of perfection created by the Evers," jury members wrote in a letter to the judge. "A six-year-old girl was tied up and caged as a means of control and punishment, which led directly to her death. The seriousness of this crime should not be underestimated, nor should the danger to the community be minimized."

A representative of the district attorney's office, who says the case still haunts her, told Westword that the Everses "selectively abused" Berta. Their supporters simply don't understand the truth, she adds.

The judge ultimately sentenced Dennis and Sandy to jail time — 180 days for Dennis, 90 for Sandy, and staggered them so that one parent could remain at home with the children at all times — as well as six years' probation.


Webography