"Parental Alienation Syndrome" (PAS)

JUNK SCIENCE in THERAPY & COURTS


The theory positing the existence of 'PAS' has been discredited by the scientific community.
– From: STATE JUSTICE INSTITUTE AND NATIONAL COUNCIL OF JUVENILE & FAMILY COURT JUDGES (2006)




19 June 2020: Susan Gerbic interviews Jean Mercer, PhD, the leading opponent of "Parental Alienation" beliefs and practices.


Adults who went through Parental Alienation
Therapy program in California speak out about
their experiences. See NBC Bay Area story.


RESOURCES:

In Popular Press:

"Why Women Lose Custody," by Naomi Cahn, Forbes, 26 Jan 2020.

"'Playing the Parental Alienation card'," Simone McNichols-Thomas, Brunel University London, 20 Jan 2020.

"Gender Bias and the Myth of Parental Alienation," Episode 201 (37 minutes), One in Ten, 5 Jan 2020.

"I-Team: NJ Brother, Sister Rip 'Alienating' Divorce Program That Tore Them From Father for Years," Pei-Sze Cheng, NBC News New York, 26 Dec 2018.

"No Oversight for Programs Advertising They Reconnect Children with 'Alienated' Parents," Vicky Nguyen, Rachel Witte, Anthony Rutanashoodech, Mark Villareal and Michael Horn, NBC Bay Area, 2 Nov 2018.

"Taken from mom, teen flees dad and waits for 18th birthday," Lisa Roose-Church, Livingston Daily, 4 Sep 2017.

"Is this Oakland County's most toxic divorce ever?" John Wisely, Detroit Free Press, 31 Jul 2017.

"They were taken from their mom to rebound with their dad. It didn't go well," by Cara Tabachnick, The Washington Post, 11 May 2017.

Arianna Riley speaks to the California Board of Psychology, 9 Feb 2017, YouTube. (start 6:20 minutes)

"Custody in crisis: How family courts nationwide put children in danger," Laurie Udesky, Salon, 11 Dec 2016.

"Controversial Forced 'Therapy' for Tsimhoni Children Was Unsuccessful and Traumatic," Hope Loudon, The Huffington Post, 4 Dec 2016.

"Tsimhoni vs. Tsimhoni: Full Court Documents In The Tale Of The Jailed Michigan Kids," Richard D. Pace, Everything-PR, 15 Jul 2015.
2015-07-14 by Richard D. Pace

"Controversial disorder at center of bitter custody cases," Susan Taylor Martin, Tampa Bay Times, 21 May 2010.
HARPER, Texas — Deep in the Texas Hill Country, off a rutted road with a sign that says "Deer Processing,'' sits a three-bedroom mobile home. This is the Rachel House, run by Pamela and Bob Hoch. Dozens of kids from all over the nation have been brought here for days, even weeks with the goal of making them like a parent they fear or despise.

Tsimhoni in Review: Community Action Group The Tsimhoni case gained international attention when the three children (ages 14, 11 and 9) were berated in Court by Judge Gorcyca and unlawfully incarcerated to Juvenile detention until their 18th birthdays.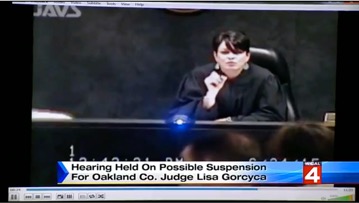 "Hearing held on possible suspension for Oakland Co. Judge Lisa Gorcyca," WDIV, 5 Apr 2018.
The Michigan Judicial Tenure Commission reviewed Circuit Court Judge Lisa Gorcyca for judicial misconduct in the Tsimhoni case. She told the three children: "Your dad is a good man who loves you. You have been brainwashed. You are brainwashed." The judge ordered the oldest child handcuffed and sent all of the children (ages 9, 11, and 13) to juvenile detention where they spent 17 days for contempt of court, with apparently no objections from the father. The father had filed a motion on 4 Nov 2010 accusing the mother of "parental alienation."



"Judge Lisa Gorcyca accused of misconduct," WDIV, 6 Apr 2018.

Mental Health Professions:

"U.S. child custody outcomes in cases involving parents alienation and abuse allegations: what do the data show?" Joan S. Meier, J Social Welfare and Family Law, 2020: 42(1):92-105
ABSTRACT: ...The findings confirm that mothers' claims of abuse, especially child physical or sexual abuse, increase their risk of losing custody, and that fathers' cross-claims of alienation virtually double that risk. Alienation's impact is gender-specific; fathers alleging mothers are abusive are not similarly undermined when mothers cross-claim alienation....
[NOTE: This paper is discussed in California Protective Parents Association, 21 Jan 2020]

"Are intensive parental alienation treatments effective and safe for children and adolescents?" Jean Mercer, J of Child Custody, 21 Jan 2019.
ABSTRACT: ...This article examines the plausibility of PA diagnostic and treatment claims and relevant empirical evidence. It is concluded that PA advocates have failed to provide empirical support for the safety and effectiveness of their methods and that custody proceedings should take these facts into consideration.

"Revisiting Parental Alienation Syndrome – Scientific Questions, Real World Consequences," David Surface, Social Work Today, Sep/Oct 2009; 9(5):26.
Parental alienation syndrome (PAS) is a theory that has been the subject of much debate. This article looks at what critics of this controversial theory have said about both its scientific foundations and its practical applications in legal settings, particularly its effect on children and families.

Statement on Parental Alienation Syndrome, American Psychological Association, 2008.
An APA 1996 Presidential Task Force on Violence and the Family noted the lack of data to support so-called "parental alienation syndrome", and raised concern about the term's use. However, we have no official position on the purported syndrome.


Legal Issues:

Sahar vs. Sahar, Superior Court of the State of California, 19 Feb 2019. Judge Daniel P. Maguire wrote:
4. Motion to Exclude Dr. Childress' Testimony Under Kelly/Frye
...Dr. Childress did not employ any truly novel technique or method, but instead rendered a psychological opinion. This does not mean the court found his testimony persuasive. His diagnosis was present an ipse dixit, and his proposed treatment seems drastic and potentially damaging. (2) The court found significantly more persuasive the testimony of Dr. Sidney Nelson, who more thoroughly and thoughtfully assessed the family dynamics and other relevant aspects of this custody case.
...(2) The court makes no finding as to whether or not Dr. Childress violated the American Psychological Association's Ethical Principles of Psychologists and Code of Conduct, as the court does not rely on his testimony.

In re Gorcyca, Docket No. 152831, argued 8 Mar 2017, decided 28 Jul 2017, Michigan Supreme Court, Syllabus. This includes the complaint, with a partial transcript of the hearing in which Judge Lisa Gorcyca orders the three Tsimhoni children (ages 9, 11, and 13) to juvenile detention for refusing to spend time with their father. It also includes the Judicial Tenure Commission's ruling, with Richard H. Bernstein's opposing and concurring (in part) opinion.

"Parental Alienation Syndrome: Fact or Fiction? The Problem with Its Use in Child Custody Cases," Holly Smith, U of Mass Law Review, Jan 2016;11(1) Article 5.
ABSTRACT: ...This Note argues that parental alienation syndrome should not be recognized in Massachusetts child custody disputes because it is not a medically recognized syndrome, nor does it pass either of the evidentiary reliability standards used in the Commonwealth. This Note proposes that parties involved in child custody disputes should be educated on the junk science of parental alienation syndrome and informed of the laws available to assist them when issues arise concerning parental behavior that may negatively impact a child.

"Parental Alienation Syndrome: 30 Years On and Still Junk Science," Rebecca M. Thomas and James T. Richardson, American Bar Association, 1 Jul 2015.
Despite having been introduced 30 years ago, there remains no credible scientific evidence supporting parental alienation syndrome (PAS, also called parental alienation (PA) and parental alienation disorder (PAD)). The concept has not gained general acceptance in the scientific field, and there remains no test, no data, or any experiment to support claims made concerning PAS.... The National Council of Juvenile and Family Court Judges (NCJFCJ) likewise finds PAS lacking in scientific merit, advising judges that based on evidentiary standards, "the court should not accept testimony regarding parental alienation syndrome, or 'PAS.' .... The American Prosecutors' Research Institute and the National District Attorney's Association, legal organizations concerned with the prosecution of child abuse and domestic violence, have also dismissed PAS.

"Scientific and Professional Rejections of Parental Alienation Syndrome," Domestic Violence Legal Empowerment and Appeals Project, Updated Aug 2013.

"What is Parental Alienation Syndrome (PAS)?" The Leadership Council on Child Abuse & Interpersonal Violence
"Although some mental health professionals and child custody evaluators, attorneys, and judges have been quick to accept and admit PAS as evidence in these disputes, there has been no consistent empirical or clinical evidence that PAS is a valid syndrome or that the so called "alienator's" behavior is the actual cause of the alienated child's behavior towards the target parent (Walker et al, 2005). In fact, the majority of mental health and legal experts who have studied the issue consider PAS theory to be both erroneous and dangerous to the children involved."
*Includes extensive bibliography on the evidentiary admissibility of PAS

"Parental Alienation Syndrome: Proponents Bear the Burden of Proof," Robert E. Emery, Family Court Review, 8-13 Jan 2005; 43(1):8-13.

"Junk Science v. Novel Scientific Evidence: Parental Alienation Syndrome, Getting It Wrong in Custody Cases," Alayne Katz, Pace Law Review, Fall 2003; 24(1) Article 10.

"Parental alienation syndrome: Junk science in child custody determination," Carol S. Bruch, European J. of Law Reform, Jan 2001; 3(3):383-40.


Jean Mercer's ChildMyths essays:

"The 'American Psychological Association Review,'" 17 June 2020

"Attachment and 'Parental Alienation,'" 17 June 2020

"Parental Alienation Proponents and the Child Protection Claim," 4 May 2020

"Why No Knowledgeable Person Would Say Avoiding a Divorced Parent Means an Attachment Disorder," 21 Apr 2020

"Nonsense, Pseudoscience, and Parental Alienation," 10 Apr 2020

"'Promising' Parental Alienation Treatments and Confusing Terminology," 17 Mar 2020

"ICD-11 Reject 'Parental Alienation,'" 11 Mar 2020

"The Fight Over Parental Alienation (PA)," 6 Mar 2020

"PA, CC, and ABAB," 24 Feb 2020

"Can Policemen Be Trained to Identify Parental Alienation? (Not Kidding Here, Unfortunately)," 11 Dec 2019

"Why Parental Alienation Should Not Be Indexed in ICD-11: Caveat Woozles," 28 Oct 2019

"Childress Brings Lloyd DeMause to APA," 22 Aug 2019

"Fighting Parental Alienation Allegations? Here's Something Useful If You're on Your Own," 25 July 2019

"The Burden of Proof for Parental Alienation Claims (and Other Alternative Psychotherapies)," 13 May 2019

"Judge Richard Dollinger Brings Common Sense to Parental Alienation Arguments," 16 Mar 2019

"Childress Is Cross, Or, Don't Say 'Ain't' When I Say 'Is,'" 6 Mar 2019.

"Judge Considers Childress's Parental Alienation Treatment Drastic and Potentially Damaging," 3 Mar 2019.

"Talkin' Family Hierarchy (Blues)," 1 Mar 2019

"Parental Alienation and Recovered Memory: Some Parallels," 28 Feb 2019

"Parental Alienation in the Context of Alternative Psychotherapies," 20 Feb 2019.

"Closing Argument in a Child Custody Case Involving Accusations of Parental Alienation," 6 Dec 2018.

"Parental Alienation Treatments: The Experiences for the Children's Perspective," 3 Nov 2018.

"Refusing to visit a divorced parent," 24 Aug 2018

"Are Parental Alienation Organizations Cult-like in Nature?" 16 Aug 2018.

"Woozling Parental Alienation," 15 Jul 2018.

"Looking at the Claimed Symptoms of 'Parental Alienation': Developmentally Appropriate Characteristics?" 19 May 2018.

"Persuasion, Attitude Change, and Parental Alienation," 18 May 2018.

"Interest Times in the Parental Alienation World," 12 Apr 2018.

"Parental Alienation Advocates Defend Children Against Dangers of Autonomy (They Say)," 28 Feb 2018.

"Parental Alienation Advocate Invites Fox to Watch Henhouse," 11 Dec 2017.

"Critical Thinking About Child Custody, Especially Parental Alienation Claims," 24 Mar 2017.

"I'll Get to Scotland Before Ye: 'Parental Alienation' Again," 14 Mar 2017.

"More Parental Alienation: What Are the Characteristics of Rejected Parents?" 5 Nov 2016.

"Is Parental Alienation Child Abuse?" 22 Sep 2015

"Craig Childress Tries to Drag Attachment Theory Into the Parental Alienation Swamp," 19 Aug 2015.